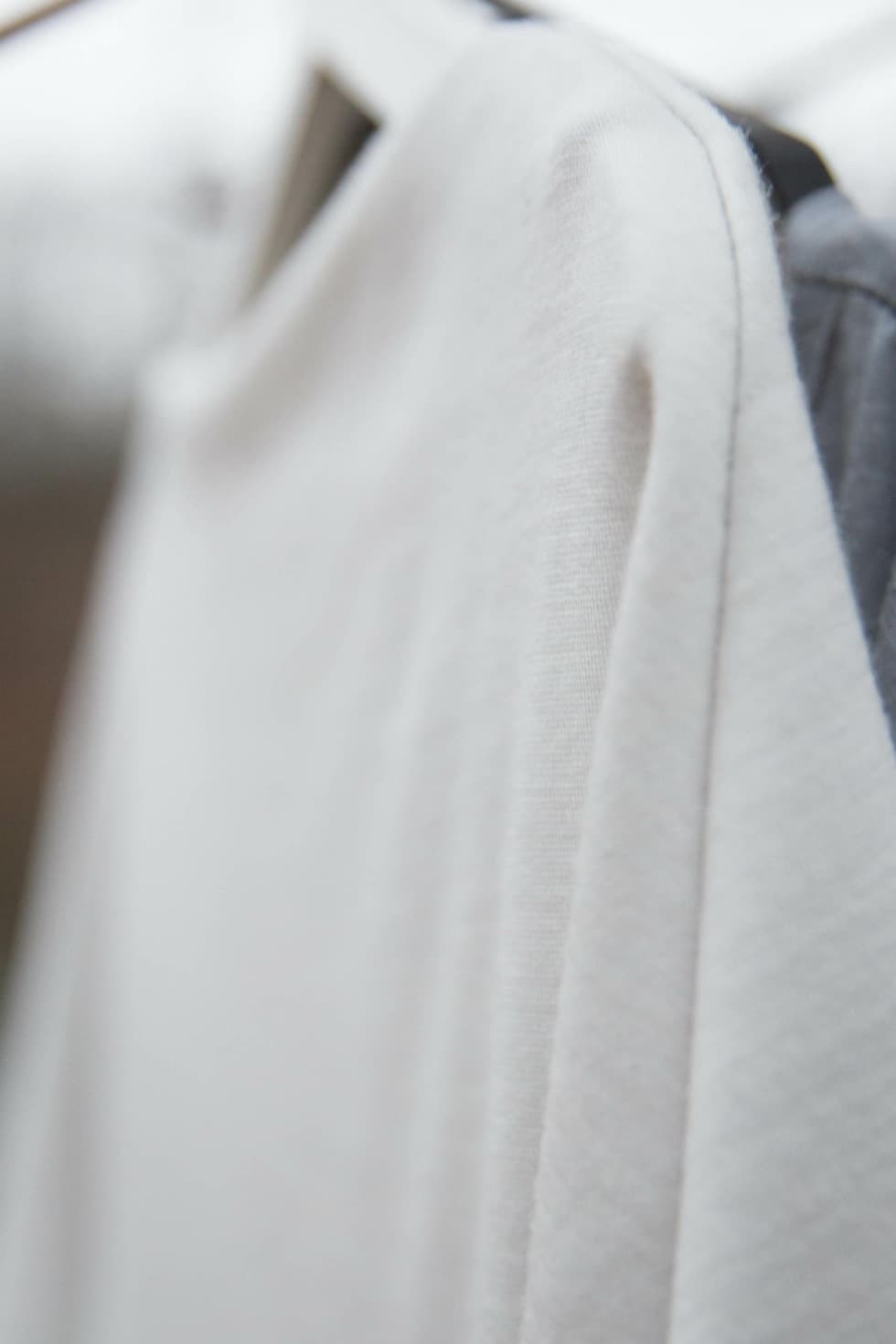 We created the Wool Soul project to prove that wool is just an itchy fabric that shrinks every time it is washed. Merino can be much more than just outdoor thermal underwear. We were looking for a way to incorporate it into our everyday wardrobe. Today, we can wear it to work, with jeans, shorts, skirts, but also for exercise and sports. Almost everywhere, actually. And we want to offer you that too.
100% merino
We sew from the highest quality material produced in New Zealand, in the Czech Republic or Estonia. Merino is a natural material and as such, behaves accordingly. You have to take that into account and treat your merino items that way too.
Here we put down few basic rules of dos and don'ts with your merino clothing:
Wash at maximum 40 on the wool or delicate program.
Preferably use wool detergents available in your market (Ecover or Tierra Verde in teh Czech republic). It is not necessary but it works better.
Let it hang.
Do not put it in the dryer.
Iron but do not iron.
After wearing it, just hang your merino item on a hanger and the fabric will sit. It doesn't smell so you don't have to wash it after every wear like classic cotton T-shirts.
Slight pilling is a feature of any wool, but it occurs minimally with extrafine material. But it's still wool and it will be a bit pilling. Pay particular attention to places that will be under more stress (e.g. backpack straps, handbag straps, etc.)
Merino wool is a natural material. As such, it is pleasant not only for us humans, but also for various pests. We recommend using for example lavender bags in your wardrobe.
If you need to repair a hem or send a thread for hairdressing, write to us .
Merino is NOT thermal underwear. You won't be HOT in wool. Wool warms in winter and cools in summer. Yes, it has great thermoregulatory properties, but it can be much more...
Wool does NOT have to be itchy. We use Extra fine merino treatment, which makes it soft.
Merino is NOT just a material for outdoor clothing. You can wear merino to the city, to the office, simply anytime.
Wool IS WASHABLE and washes quite easily, see our recommendations above. Moreover, it is enough to hang the wool after wearing it and it is as good as new by morning. It does not need frequent washing. You DON'T SMELL with wool.
Wool is only suitable for SWEATERS. Nonsense, our knit is soft and flows like silk.
Merino is NOT thermal underwear.
I WARM IN WINTER, I COOL IN SUMMER
A few facts on where its thermal insulation abilities come from:
This is due to several factors, especially the tortuosity of the fiber, the scaly surface of the fiber, as well as the high heat of sorption[2]. Textiles made from these fibers contain a high amount of air-containing pores. This ensures the insulating ability. The feeling of warmth that we know from classic woolen sweaters is due to the fact that the heat produced by humans hardly escapes to the surroundings. Merino wool is able to absorb moisture up to 30% of its weight. The sorption capacity of wool is a source of heat produced by wool fibers (already mentioned sorption heat). Compared to, for example, polyester, the thermal insulation properties of wool are many times higher. Another advantage is that Merino wool is anti-allergenic and protects the skin from UV radiation Source: Wikipedia
Merino is a breed of domestic sheep that is very popular for its wool. Merino sheep are white, beige or light gray in color. Merino sheep have very fine fibers that grow exceptionally thick. A single Merino sheep produces an average of 2–4 kg of wool per year, sometimes more.
Originally, the Merino sheep breed comes from Spain. From there, during the 18th and 19th centuries, it spread to other European countries and outside Europe, especially to Australia and New Zealand. The latter ones are today among the main producers of Merino wool.